ClipBook Viewer (Clipbrd.exe)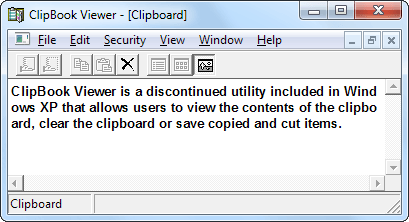 ClipBook Viewer is a discontinued utility included in Windows XP that allows users to view the contents of the clipboard, clear the clipboard or save copied and cut items.
Windows XP had clipbrd.exe, referred to as the ClipBook Viewer, which could be used to see what was saved on your clipboard. If you try to search for this exe file in Windows Vista, Windows 7, Windows 8 or Windows 10, you will be unable to find clipbrd.exe.
You can use Free Clipboard Viewer. This application allows you to look inside your Windows clipboard.
Share with your Friends:
© 2010–2019 Comfort Software Group. All rights reserved.

Alarm Clock | Virtual Keyboard | Clipboard History | On-Screen Keyboard
Download
Version: 3.0
Release: April 29, 2015
System Requirements:
Microsoft Windows 2000/XP/Vista/7/8/8.1/10
Discuss Free Clipboard Viewer
Having a problem with Free Clipboard Viewer? Want to ask a question? Or maybe you have an idea for a great new feature?
Please email to public@comfort-software.com
Free Clipboard Viewer Online Help
Clipboard History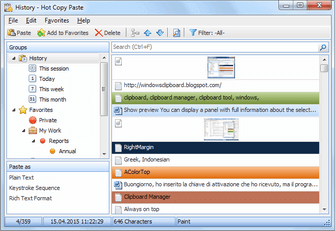 Hot Copy Paste
Enhances Windows Clipboard with multiple snippets, secure storage, full-text search, and hotkey access to frequently used snippets.